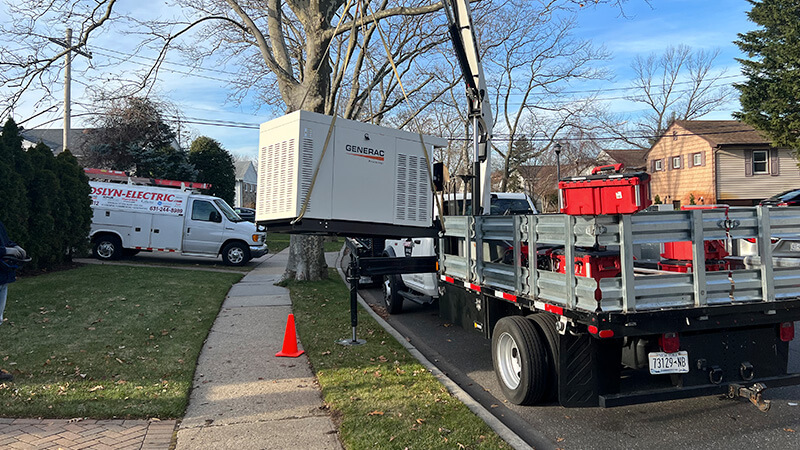 Long Island Generator Services
We are a full-service Generator Set and Automatic Transfer Switch provider. That means we offer all services that pertain to engine-driven standby electric power equipment.
We offer more brands than anyone else as an authorized dealer. This variety provides for you the opportunity to get the right piece of equipment for the right price. Not all equipment is the same, each having slight differences that make a big difference in the final analysis. Output capability, dimensional size, appearance, operating speed, noise levels, and town acceptance vary from brand to brand. Our vast experience selling and servicing all brands will guide us in the selection process. Purchasing your equipment from us ensures you get the most current model, correct warranty, delivery and placement to code, and continuation of support.
Generators Long Island, our installation team is well versed in the many variables requiring accommodation of an approved and safe installation. These practices change from town to town where set back requirements dictate the location of the intended location site as well as maximum noise emission levels and fuel source. Each installation starts with the permitting process which results in an approval from the town for the location and type of equipment being installed. From there we move onto location and wiring of the transfer switch (ATS) and connection or supply of the appropriate fuel source. We finish up with the required factory Start-up, warranty validation and final town approval with COO.
Service is the key to the reliability and longevity of your equipment. What good is your emergency generator if it does not operate properly in time of need? Service is our mainstay. We pride ourselves in leading the market with the most trained and well-equipped team of service technicians available. Each attends many hours of factory classroom training with continual in-service and hands-on enhancement program. We offer a number of different Preventative Maintenance programs to suit the equipment and budget, 24/7 emergency services, and remote monitoring. Repairs for down equipment receive a high priority to insure you are up and running on an urgent basis. Our parts department is stocked with all the manufacturers recommended items including additional parts we have learned are necessary for a fast repair. For generator service on Long Island contact us. We can help installations, repairs & sales. Get a free estimate by calling 631-567-2700
Service Links