Since 1982, PowerPro Service Company Inc. has served Long Island with quality diesel industrial generators. We're known as a full service provider in both Nassau and Suffolk Counties, fulfilling the needs of our residential and commercial customers with respect to their generators. Industrial customers especially appreciate our full line generators from prominent manufacturers. In fact, we have the largest local selection of brands. No matter what kind of make or model you may need for your specific commercial or residential property, we'll have the best models available for you at the most competitive prices for your generators.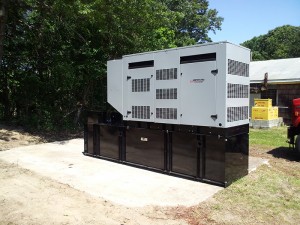 Industrial clients and residential customers alike appreciate our customer service, which includes complete installation assistance for our products. This is the best way to make sure that our diesel industrial generators are correctly implemented in buildings across Long Island. In addition, PowerPro Service Company has entire turnkey packages with an array of convenient options for our diesel industrial generators. We work closely with electricians to not only deliver the best products, but find the best unit for each application. You can rest easy knowing that your generator selection is in good hands.
PowerPro has EXPERTISE with MAJOR MANUFACTURERS



PowerPro has EXPERTISE with MAJOR MANUFACTURERS
Even when a storm creates a widespread power outage, your business will remain open for business. You can depend on one of our diesel industrial generators from our Long Island-based company – we stake our reputation on it. Your business will not suffer an economic downturn due to lost productivity or not being able to fulfill orders. When your competitors are shuttered due to power outages, your company will remain up and running at full power. Investing in a generator is a wise business decision and a completely safe option that ensures no power interruption and therefore no revenue losses. A generator from PowerPro guarantees that your building will be completely powered no matter what the weather's like outside, so your business can stay in business in more ways than one! For our residential customers, a major storm may knock out power to your neighbors, while at your address the lights stay on, and you can relax in total comfort and safety.
We're skilled in providing diesel industrial generators for both small and large applications on Long Island. Moreover, we have everything from individual parts to entire delivery and installation packages available. Our generator units are able to be installed in outdoor sound enclosures or in a specific machinery room. We offer these options to best meet the needs of your industrial building. When you work with our Long Island company, we'll help you find the perfect choice from our various diesel industrial generators.
After the installation, PowerPro Service Company will still be available to assist. Our trained professionals are ready to perform services on Long Island diesel industrial generators such as maintenance work, emergency services, and even help with warranties. We're dedicated to providing our customers with only the finest generators and services that their businesses can depend on. Although it can be easy to neglect preventative maintenance on a generator, it's not something you should underestimate. You'll need to depend on your generator when the power disappears, so have us make sure it's in proper working condition for you before it's too late.
Get in touch with PowerPro Service Company to learn more about our reliable 24/7 emergency service for your generators! Industrial or residential, we only provide our Long Island customers with the finest generators available on the market. Speak with our dedicated professionals to see how our products can make your business safer and more efficient.
We can be reached at 631-567-2700 for a free estimate; take this important step today to protect your business.